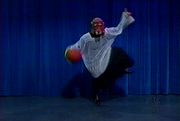 The Reverend Otis K. Dribbles
is a 
Late Night with Conan O'Brien
 character who debuted on October 8th, 1998.
He is a man wearing a red bloodhound mask and clerical clothing who dribbles a basketball and dances to the tune of "Sweet Georgia Brown". The first appearance of this character was during a campaign to prevent upcoming guest Sandra Bullock from cancelling her appearance on the show. Conan assures the actress that she will not be overshadowed, as the only other guest booked that night was Otis.
On November 19th, 1998, Otis K. Dribbles appeared again in the sketch Pleasing the Affiliates to help jonesing basketball fans through the NBA strike of that year. The character appeared one final time in a sketch where Conan could no longer afford an appearance by Triumph the Insult Comic Dog, and hoped that their "other" dog character would suffice.
In an interview, Conan states that the character was a big hit with the writing staff, but received little in the way of laughs from the studio audience.